Matthew Leadbitter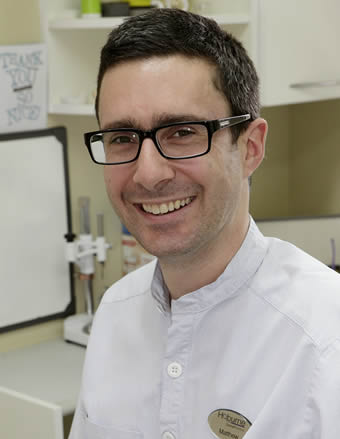 Mr Matthew Leadbitter BSc (Hons), PhD, BDS (Plymouth) 2015, Diploma in Restorative Dental Practice (Eastman Dental Hospital, UCL) 2020.
Matthew trained as a postgraduate dentist at the Peninsula Dental School in Plymouth, where he was one of the few students in his year to be awarded his degree with distinction (honours). Following this, Matthew relocated to Bournemouth where he has since practiced. Matthew is truly passionate about dentistry and takes pride in achieving the best for his patients. He strives to deliver high quality dentistry and continues to educate himself in contemporary materials, techniques and doctrines. He has certified training in the delivery of BioClear restorations levels 1-4. Recently, he completed a 3 year part-time Diploma in Restorative Dentistry at the Eastman Dental Hospital, where he was again awarded the highest possible merit (Distinction).
Matthew is very personable, has a relaxed and friendly approach and welcomes the opportunity to help those patients who usually find the dentist an anxious experience.
Matthew is the practice's anxiety accredited dentist.
Matthew's career started as a biomedical research scientist; he achieved a first class degree in Cell Biology at Durham University and went on to gain a PhD in Cancer genetics at Cardiff University's School of Medicine.
Outside of work Matthew enjoys swimming to keep fit, skiing (when the opportunity arises!), cooking and looking after his family. He also enjoys playing guitar and has been known to play in bands when time allows. He is married to Suzie, also a dentist in Bournemouth, and has a son, Edward, and daughter, Imogen.
Matthew Leadbitter is a Dental Phobia Certified dentist Click Here to verify.
GDC registration - 258285
Click here to book an appointment
or request a call back